The University of Toronto is a member of the Coursera Partner Consortium, a content-sharing initiative that makes it possible universities to share MOOC content with other participating Coursera partners.
Access to self-directed learning and certification of completion of Coursera offerings are available to University of Toronto learners at no cost. This is a continuing program, providing access to a catalogue of courses provided by participating consortium partners. Some exclusions may apply.
Access information:
Key features are as follows:
Catalogue of professional and research skills-related courses highlighted to support U of T students
U of T students and other community members may enroll using University of Toronto email (mail.utoronto.ca; utoronto.ca)
Participate for skills development and/or to receive a certificate of completion
Certifications may be posted on LinkedIn or shared via URL
Career and Professional Skills Playlists
To help University of Toronto students discover valuable content related to career and professional skills development, we have curated two new course playlists.
Career Learning
Catalogue of courses related to:
Job Searching: Resumes & Interviews
Networking | LinkedIn
Career Exploration
Professional Skills
Catalogue of courses related to:
Workplace Readiness Skills | Workplace Culture
Equity, Diversity and Inclusion in the Workplace
Workplace Communication Skills/Professionalism
Working in Teams Online
Leadership
Workplace Strategy
Project Management
Technological Aptitude
Playlist Access
The new playlists can be accessed through the main catalogue, or directly via the following links:
A pop-up window will invite you to join the learning program. Select the "Join Program" button to access the playlist if you already have an active Coursera for UofT account. If you do not, you will be prompted to sign up using a utoronto.ca email account.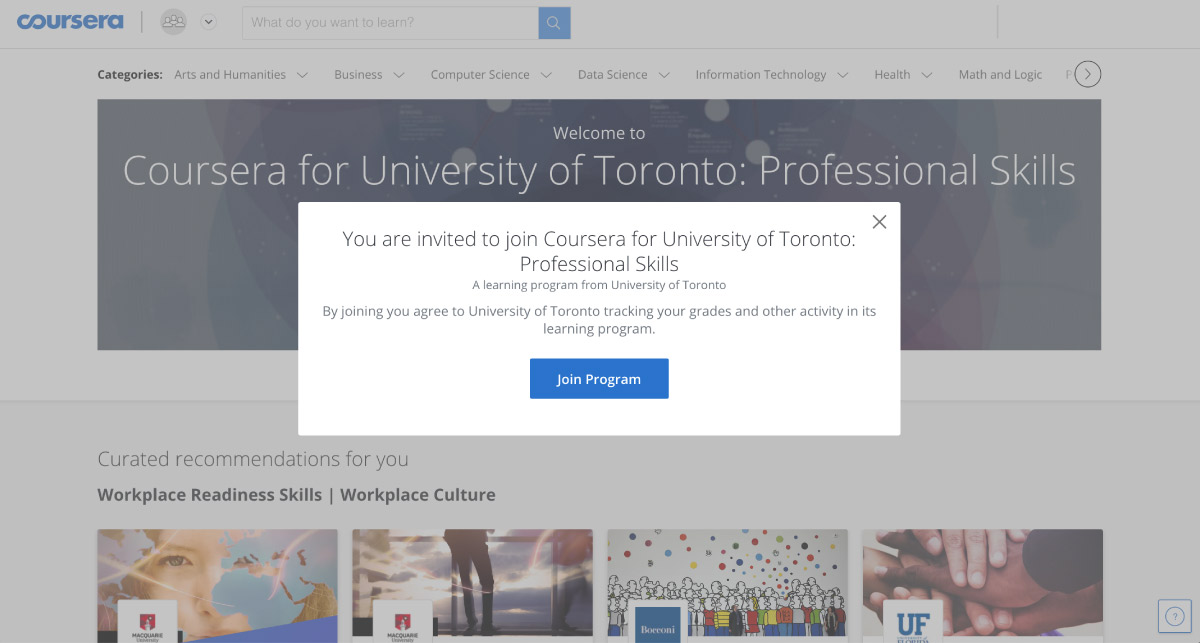 Switch between play lists you have joined by clicking on the arrow next to the Coursera logo on the upper left to open the "Coursera Membership Menu."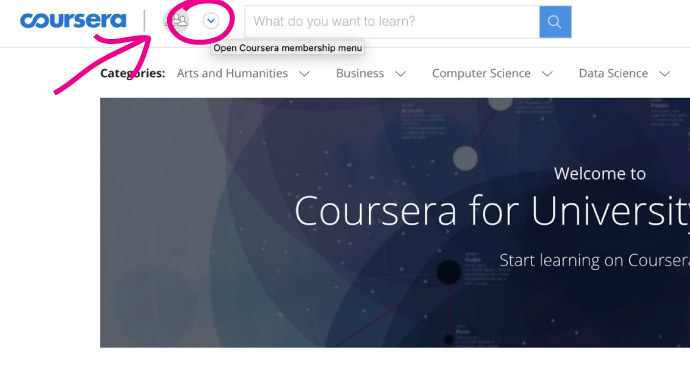 Make Suggestions or Learn More
Instructors and/or academic administrators are invited to curate a recommended Coursera course list for students in their program area from the full Coursera Catalogue. Use the "Explore" or "Search" tools on the catalogue display page to locate courses of value and relevance to your students.
Contact digital.learning@utoronto.ca for information on providing a customized list of Coursera recommended content.