The primary mandate of the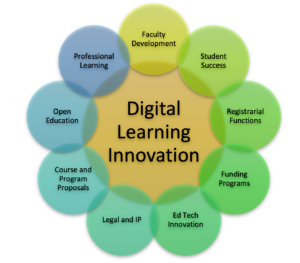 Digital Learning Innovation (DLI) portfolio is to lead the incubation of emergent digital learning initiatives in support of the broader academic mission of the institution. Liaison with service areas from across functional areas allows us to contribute to extension and enhancement of learning innovation across undergraduate and graduate programs.
Consultation and planning support is available through the DLI team, as part of the Information and Technology Services group, reporting to the CIO. The Director of Digital Learning Innovation, Laurie Harrison, provides strategic and tactical leadership while working closely with the  Vice-Provost, Innovations in Undergraduate Education, the Centre for Teaching Support and Innovation, and also the Director of Academic and Collaborative Technology and his team.
Our Team:
Key Responsibilities
Online Learning Consultation
Online and hybrid course design and development
Funding programs
Faculty development and program support
Specialized Learning Technologies Support
Online exam proctoring
Work integrated learning supports
Augmented and virtual reality
Authoring (Articulate, SCORM, H5P)
Open Education Resource and Outreach Development
Open textbook authoring and adaptation
Open modules and other resources
eCampusOntario liaison
Online Learning Research and Evaluation
Information, advice and support on researching and publishing research related to online learning strategies and
Evaluation of emergent educational technology tools and techniques
Massive Open Online Course (MOOC) Support
Consultation, partner liaison and design services related to MOOC project implementation
Coursera and EdX platform support
Institutional Supports
---
For more information about DLI please contact:
Laurie Harrison
Director of Online Learning Strategies
laurie.harrison@utoronto.ca