What is it?
The objectives of the Augmented Reality/Virtual Reality Network are to foster a UofT community group that provides an opportunity to share work we are doing across academic program areas, learn from one another and facilitate communication regarding emergent opportunities in this domain. All faculty and staff at UofT who are actively involved in AR/VR project work are welcome to join.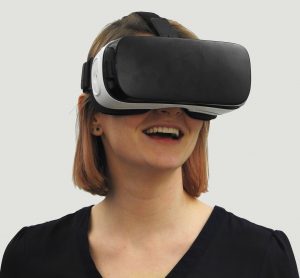 How to join?
A listserv has been set up for those who wish to receive communication about network activities.  The list is called AR-VR-NETWORK-L. To subscribe please send an email to listserv@listserv.utoronto.ca and, in the text of your message, write: SUBSCRIBE ar-vr-network-l .  You should then get a message confirming your subscription.
The purpose of the listserv is to provide a channel for sharing information about upcoming events, funding opportunities and resources pertinent to those developing AR/VR resources for educational contexts.
Project Profiles
Fahad Alam and Clyde Matava, Department of Anesthesia, "Collaborative Human Immersive and Interactive Lab (CHISIL)"at Sunnybrook Hospital and the Hospital for Sick Kids: Immersive pre-surgery "orientation"/ exposure therapy
Mike Spears, MADLab, Gerstein Science Information Center
New facilities coming soon:  VR development suite:
https://gerstein.library.utoronto.ca/virtual-tour-15
Siobhan O'Flynn, Canadian Studies, English and Drama:
AR Project Toronto Kensington Market Hidden Histories
Marc Dryer, Biomedical Communication, Forensic Science, UTM:
Showcase of Biomedical visualizations by faculty and students in the Biomedical Communications Graduate Program
Dawn Kilkenny, Bill Ju, Maria Papaconstantinou, Chris Garside, Andrey Shukalyuk:
Active Learning Opportunities Through Virtual Lab (Labster) Curricular Integration
Dawn Kilkenny, Alexander Sullivan
Biomedical Virtex Lab Project
Brian Sutherland, Biomedical Communications, Faculty of Information – UofT, UTSC:
AR Projects
Meetings
Past Meetings:
AR-VR Round Table with Tecnológico de Monterrey
February 8, 2018
A "lightning round" of presentations/Q&A on the following topics:
Collaborative Human Immersive and Interactive Lab (CHISIL)"at the Hospital for Sick Kids
November 30, 2017
CHISIL is where our hosts for this meeting, Clyde Matava and Fahad Alam created a pre-surgery "orientation" in immersive 360 degree video as part of their patient education initiative (read more:  U of T Faculty of Medicine ;  Canadian Healthcare Technology; or Toronto Star.)
Intro to AR/VR at UT's MADLab (mobile application development lab).
October 23, 2017
Mike Spears, MADLab Manager outlines the services and show the equipment of the lab. He will also talk about the capabilities of ARKit, Unity and WebVR and how they can be integrated with the equipment at the lab. After the guided tour, you can have your turn trying out their HTC Vive "room scale" VR headset for 5 or 10 minutes (depending on demand).
The MADLab is located in Gerstein Science Information Centre, Room B112 (at the south end of the first lower level).
Launch Meeting
July 19, 2017
Project Team introductions and discussion of shared interests. Hosted by Human Biology.