Last year was another exciting period of growth in online and hybrid learning at UofT.
Undergraduate and graduate fully online courses remained steady, with over 11,000 learners enrolled in at least one online course offering.
Hybrid course design is a recently funded OUCI initiative and we are seeing an uptick in the development of hybrid courses across faculties
Massive Open Online Courses (MOOCs) continue to grow as well and we have passed a milestone in having well over 2,000,000 learners explore a MOOC from UofT.
Have a look at our infographic for the full story of online learning "by the numbers."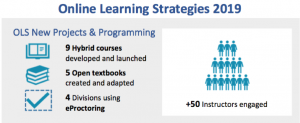 Just what is a fully online, hybrid course or MOOC? See a full list of definitions of online, hybrid, MOOCs and more at https://teaching.utoronto.ca/ed-tech/online-learning/