The Coursera for University of Toronto initiative continues to offer the UofT learners full access to a large catalogue of Massive Open Online Courses (MOOCs). First introduced in support of partner institutions impacted by COVID-19, the program has been extended until April 2021.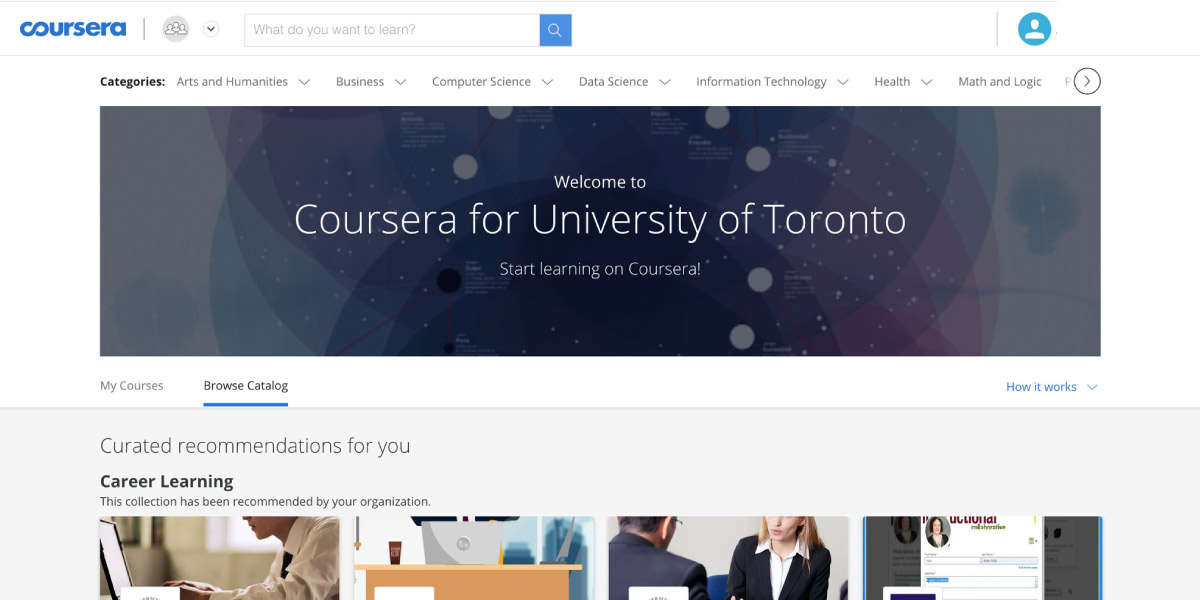 These non-degree, short courses provide opportunities for professional and academic skill development in a range of areas, including research, writing, computer programming, statistical analysis, project management and many other topics. Browse offerings or create an account using a utoronto.ca email address by following this link:
Coursera for University of Toronto – Main Catalogue
To help University of Toronto students discover valuable content related to career and professional skills development, we have curated two new course playlists with the help of Career Centre staff in Student Life:
Career Learning: Job search, interviews, networking and career exploration topics
Professional Skills: Workplace, communication, leadership, project management, tech skills
Make Suggestions or Learn More
Instructors and staff are invited to curate a recommended Coursera course list for students in their program area from the full Coursera Catalogue. Use the "Explore" or "Search" tools on the catalogue display page to locate courses of value and relevance to your students.
Contact digital.learning@utoronto.ca for information on providing customized Coursera content for your learners.